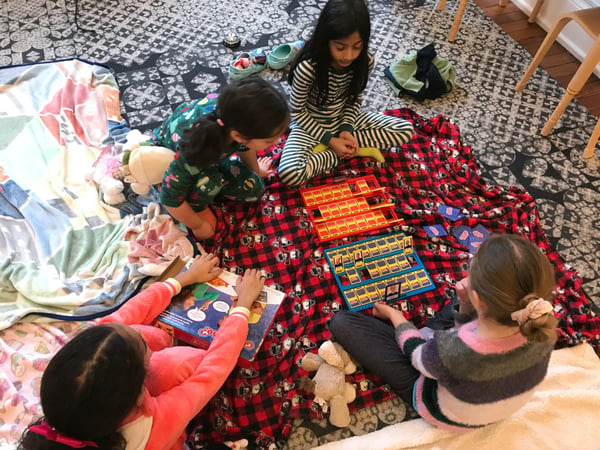 In the Game Design Quest, Acton Elementary learners step into the shoes of game designers. They explore game design by playing and analyzing games of luck, strategy, and skill. Throughout the quest, learners work in teams to create an original board game, card game, online game, or interactive game.
The goals of this quest include:
Introducing the learners to the elements of game design

Inspiring a curiosity about probability in the real world

Inspiring a love of design and creation

Introducing the concepts of product testing and working with customer feedback

Practicing project planning from inception to completion
During the quest, learners write reviews for games they test and are challenged to answer the question, "What lesson learned can you take away from the games you tested? How will you apply this lesson learned to your own game?" One Acton Elementary learner said, "It's important to have clear instructions especially if no one has played the game before." Another learner said, "It's important to play by the same rules. It wouldn't be fair if we played by different rules."
When designing their original games, learner are challenged to take on the roles of art director, operations manager, and engineer. Each member of a team is challenged to take ownership of a specific role and the responsibilities of that role. The art director is in charge of the game design sketch; the operations manager is tasked with creating a materials list; and the engineer is responsible for creating the game prototype.
In addition to creating an original game, learners have the opportunity to continue testing games in an arcade-style Play Lab on Fridays. Learners can earn time in the Play Lab by completing math challenges during the morning "Core Skills" work cycle.
At the end of the session learners showcase their original games and share their game design process. Family members are asked to step into the shoes of investors and vote for the learner-designed game most likely to succeed in the marketplace, most aesthetically pleasing, with the clearest instructions, and with the best storyline.