How do you become a powerful writer? The secret is to write a lot. With this in mind, learners dedicate one hour on Mondays and on Wednesdays every week to Writer's Workshop. Each session has a different Writer's Workshop theme. This year, the learners will explore writing letters, short stories, graphic novels, debates, poetry, and biographies.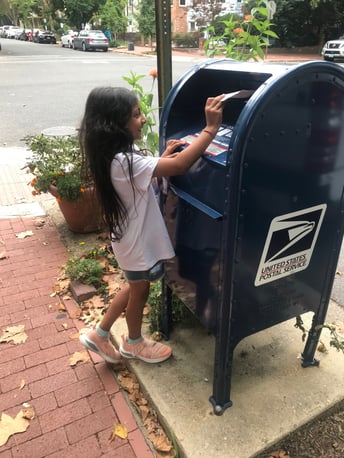 The session one Writer's Workshop theme was "Letter to a Hero," in which learners were challenged to write a formal letter to a hero of their choice, express gratitude, find common ground, and seek a response. To fulfill the workshop requirements, letters had to be handwritten and mailed out at the end of the session.
Learners kicked off the workshop by researching their heroes. Digging deep, they uncovered both well-known successes and lesser-known failures. One upper-elementary learner was disappointed with her initial hero and ultimately decided to choose another. She said, "I don't think he's hero-worthy anymore" after discovering his actions didn't represent heroic choices.
In the lower elementary studio, learners chose a mix of heroes to write to including authors of their favorite books, hosts of their favorite podcasts, and celebrity chefs. One learner chose to write to Lin-Manuel Miranda, the composer of the hit Broadway musical Hamilton.
Once learners chose their heroes, they began drafting their letters. Some learners struggled to begin, so we investigated best practices for letter writing during Writer's Workshop launch. Learners also had the opportunity to read through example letters written by other elementary learners.
After drafting, they met with their writing buddies for review and editing. The learner writing to Lin-Manuel Miranda wrote in his letter, "I love your dancing and singing. How do you get your moves?" He also requested an autograph.
Finally, learners embarked on the last stage in the writing process, publishing. The learners were buzzing with anticipation as they addressed their letters in preparation for mailing them before the end of the session.
To earn the Writer's Workshop "Letter to a Hero" badge, running partners had to approve each other's work. Council members audit badge work, so the learners also needed to be prepared to demonstrate excellent work by showing three pieces of evidence to the Council if selected for an audit. Evidence includes drafts, completed research sheets with information about their chosen hero, and their final letter.