Dear Whittle School Families,
We were sorry to read about the closing of the Whittle School's DC campus.
We invite those who are quickly searching for alternatives to sign up for a virtual tour of Acton Academy of Washington, DC in Foggy Bottom. We have few spaces for the 2022-23 school year as follows:
Two spaces left in our Montessori primary program (ages 3-6)
One space left in our lower elementary program (grades 1-3)
Two spaces in our upper elementary program (grades 4-5)
Two spaces in our middle school program (grades 6-8)
Acton Academy of Washington, DC was founded in 2018—about the same time as the Whittle School. We have deliberately chosen to grow slowly, carefully, serving one family at a time. We take our promises seriously. And we have have quietly earned a reputation for excellence.
This year, we were pleased that U.S. News & World Report named Acton on a list of ten top DC private elementary schools including Sidwell Friends, Beauvoir National Cathedral School, Georgetown Day School, and Maret.
Acton Academy's mission is to help each child on a journey to find a calling and change the world. Acton combines Montessori ideas, Harvard Business School-style Socratic discussions, mixed-age classrooms, and real-world projects like the Acton Children's Business Fair. Acton invites children to imagine themselves as the heroic protagonist in their own educational journey. At Acton, children discover their unique talents and passions while developing the habits of mind and character needed to chase down their dreams with energy and joy.
Acton Academy of Washington, DC is an independent affiliate of Acton Academy, founded in 2009 in Austin, Texas. The Acton network includes over 350 innovative "learner-driven" schools in cities and countries around the world including in Washington, DC, Chicago, L.A., Phoenix, New Orleans, Guatemala, El Salvador, Canada, South Africa, Malaysia, and the U.K.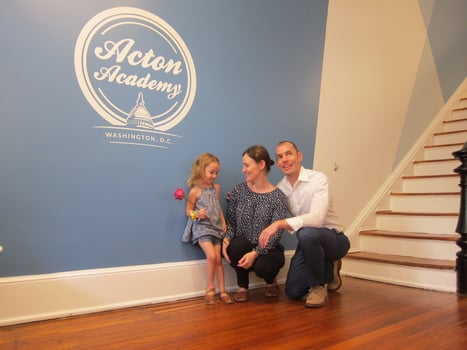 Each Acton is founded by parent entrepreneurs for their own children and other families in their community. Our daughter has been at Acton since she was four and she is thriving. Here is a photo on her first day of school. You can read what other parents say they love about Acton for their children:
"Then we toured Acton and, frankly, fell in love."
"Our son is not only happy, but excited to go to school."
"You have created something one of a kind, and I thank you."
"Acton is the best decision we've ever made for our daughter."
"Every day after school she can't stop talking about the adventures she's had that day!"
For Whittle School families, we are happy to work through our admissions process quickly to evaluate whether Acton is the right fit for your child and family.
We invite you to sign up for a virtual tour, connect with us, and learn more!
Best,
David Kirby
Founder and Parent